5 Types of Content to Create an Effective Facebook Business Page
There is no denying that Facebook is a powerful marketing tool, but only if you use it correctly. Creating a Facebook business page and posting regularly isn't enough to attract followers and increase engagement; you have to be posting the right content. Here are 5 different content types that you can mix and match to create an engaging and effective Facebook business page.
Original Blogs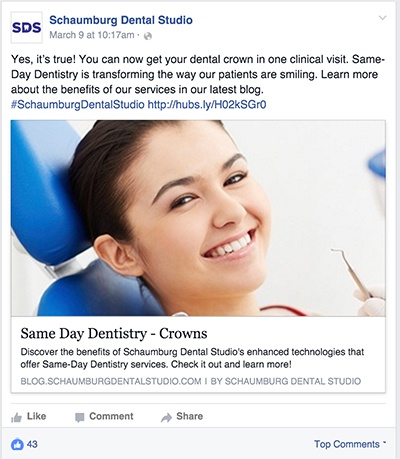 Writing, developing and posting original blogs to your website and Facebook business page is the perfect way to add your voice to the conversation. If you want to be viewed as an industry leader, you need to not only stay on top of industry news and trends, but you also need to share your opinion and add additional information. Make sure these blogs are either fun to read or contain information that your target audience needs.
Shared Content
It's never good to make your company look like it's stuck in its own little bubble, unaware of what's going on in the world. Sharing other people's/company's content connects you to the conversation outside yourself. Share industry news, congratulate similar companies on big achievements and comment on world events to break the bubble and reach a larger audience.
Short Tips and Tricks
When people are scrolling through their favorite social media platforms, they aren't always in the mood to read long posts. Instead of them scrolling right past you, engage them with some short tips and tricks that have to do with your product/service. These tips should enhance your reader's life and not simply be a plug for your business. Short, helpful posts position your company as thoughtful; making the consumer feel that you can be trusted. So, even if they don't need your product/service right now, you'll be the first name that comes to mind when they do.
Company News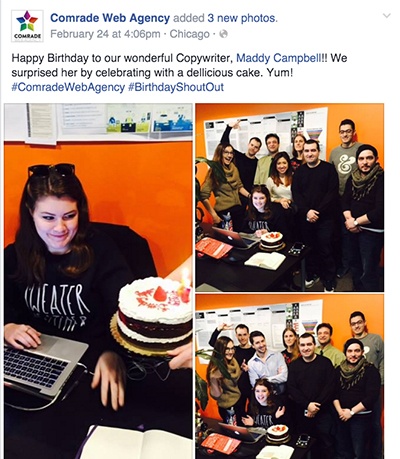 Sharing company news like employee birthdays, new services, charity work, company gatherings, etc., really humanizes your business. Consumers today are more drawn to "down-to-earth" business that they feel that they can connect to vs. large, faceless corporations. Make your reader feel connected to the ongoings of the company. Creativity goes a long way in this type of content.
Exclusive Special Offers
Give your readers a reason to "follow" or "subscribe". By offering limited time offers only on Facebook, you are coercing people to take that extra step and follow your business. This, in turn, will increase the number of people you can reach with your core business message.
How Often Do I Post Each Content Type?
Follow the 4-1-1 Rule: every 6 posts on your page should be comprised of one self-serving post, four new pieces of content and one re-share. Following this rule keeps the conversation informative without being pushy. Depending on your company's resources, you should be posting between 3-6 times a week.
Written by:
Comrade Web Agency